In this Active Disaster Recovery Case Study our customer needs a solution for a highly trafficked eCommerce application with customized software to be available simultaneously in two physical locations.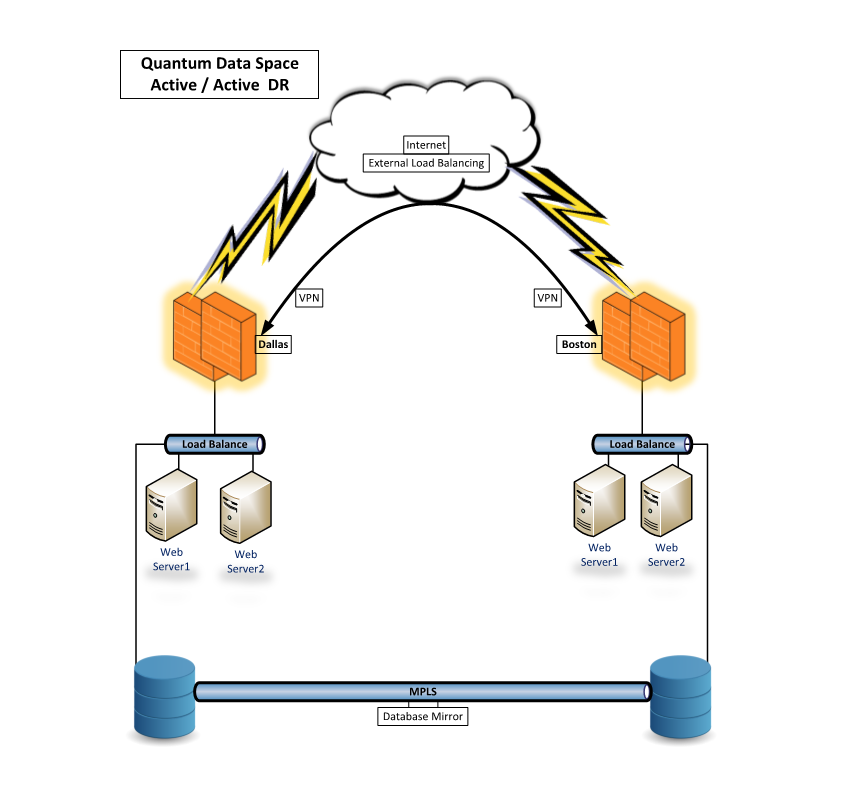 The goals of the project are as follows:
Load-share web traffic between the two server locations
Keep the data synchronized between them (user and product data)
Provide redundancy in case either location has a catastrophic failure
Fully encrypted, secure data traffic between the locations
Full, continuous backups from one site to the other.
Quantum Data Space's extensive knowledge and experience of VMWare virtual server management was extensively used in the planning and development of the solution. Load balancing software for the incoming (external) web traffic is achieved with a VPN connection between the two locations. Cisco routers are used for this application, and our in house Cisco configuration expertise has been vital. The Database Mirror connection uses a high speed dedicated 50Gb/sec connection over a fiber link. This is about 1000 times faster than a normal cable or FiOS based internet connection. With this solution the 7TB of data containing every aspect of the application is fully backed up from site to site every 16 minutes. In case of system failure at either end a complete disaster recovery would never be out of date by more than that.
This is just one project, and its clear that another customer's requirement may be different either in concept or in the detail. What we do at Quantum Data Space, is to combine a selection of available technology solutions to provide a solution meeting the project's needs precisely, which keeps the costs under control and the goal clearly in view at all times. We also have on hand, through our contacts and staff members, a range of available experts in different technology areas to design, implement and optimize the server installation and operation.