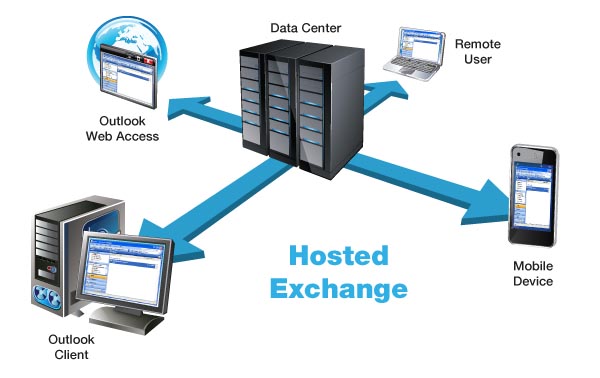 Cloud Server & Hosted Exchange Features:
Month-to-Month Billing: Monthly billing, no long term contract, upgrade or downgrade Microsoft Exchange hosting plans from the control panel.
Split Domain: You can have some users on your domain on MS Exchange hosting and others on your regular mail account.
Domain Choices: Bring your own domain, use a sub-domain, or purchase new domain for your Microsoft Exchange hosting online accounts.
Reliable Infrastructure: Used clustered servers infrastructure in reliable data centers to provide shared MS Exchange hosting customers with 99.99% Uptime. Daily backups ensure that your data is never lost.
Excellent Support: Available 24/7/365 phone, e-mail.
Web Based Account Administration: Through the web based control panel, the account administrator, individual users, and resellers can add/delete mailboxes, contacts, groups, and edit user settings such as passwords, Aliases, Auto Reply, Filters, Distribution Lists.
Outlook Web Access (OWA) or hosted Outlook Web App for Webmail: Microsoft OWA 2013 included free with hosted exchange accounts allows users on the road to access their e-mail through a standard web browser with features similar to Microsoft Outlook. The improved OWA 2013 is now optimized to work with desktops, laptops, tablets, and smartphones. OWA is friendlier to touchscreen inputs and also works in an offline mode.
Wireless Synchronization: Free ActiveSync synchronization of e-mails is included with every MS Exchange hosted account, to a variety of mobile devices including iPhone, iPad, Android, and Windows Mobile phones.
Free Anti-Spam Software: Anti-Spam software continuously protects against spam as well as offers users to set filters, rules, and manage safe sender lists, safe recipient lists, and blocked senders lists.
Email Archiving: Hosted Exchange 2013 Plus includes integrated email archiving, retention, and discovery capabilities.
Free Anti-Virus: All incoming and outgoing e-mail messages and attachments in MS Exchange accounts are scrubbed by anti-virus software before they are forwarded to their destinations.
Free Outlook 2013 with some plans: Each MS Exchange 2013 Plus hosting account includes a free download of Microsoft Outlook for Windows PCs.
Smarter Search: Search in Exchange 2013 learns from the behavior history of users to enhance and prioritize search results in Exchange.
Import Contacts from Multiple Sources: With Exchange 2013, users can merge contacts from multiple sources to provide a single view of a person, by linking contact information pulled from multiple locations including a social network such as LinkedIn.
Data Loss Prevention (DLP): DLP capabilities help to protect sensitive data and make users aware of internal compliance policies. For example, DLP can help in preventing users from sending sensitive information to unauthorized people by mistake.
Remote Wipe Capability: Remote wipe can be used to erase sensitive data from a lost mobile device.
Personal and Shared Information: Hosted Exchange online users under one company account can maintain personal and shared calendars, task managers, public folders, companywide Global Address lists (GALs), and can arrange group scheduling with real-time availability.